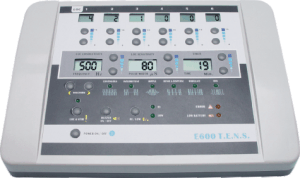 A3936 MODEL E600 HAN Multi-Purpose Digital Electronic Acupunctoscope

The model E600 HAN Multi-Purpose Digital Electronic Acupunctoscope with 6 channel outputs is a newly designed unit using the latest advanced technology. Attractive, light weight, sturdy, clinical and hospital use professional device. It features with digital displays for all settings, to show the intensity, frequency, pulse width, and time of stimulation during operation, as well as numerical display to show the sensitivity of detection during the location of acupuncture points.
It features with acupuncture point detection and stimulation by needles or electrodes. Specially designed with 6 different types of waveforms, in which the HAN waveform is also included. An unique design of search-to-treat probe is utilized in this device and allows immediate stimulation following its point detection.
This unit is fully equipped with distinguished features in appearance, circuitry and accessories. It is one of the most powerful Acupuncture stimulators available on the market.
Features & Advantages
6 LCD display (0.5X0.7") for each output channels, showing the intensity level, 16 settings.
6 different colors of wires, one color for each channel.
3 LCD display (0.6X1.2") showing search sensitivity, frequency (Hz), pulse width (us), treatment time.
All settings (pulse rate, pulse width, time and output intensity) are in digital display, provide records for treatment as well as for clinical studies.
The search/stim probe includes a search-to-treat push button selector.
Low Battery warning signal, error lighting, zero start, automatic power-off if unit is unused for 5 minutes.
Sound On/Off function, Hi/Low intensity selection.
Memory: Memory the latest operation record when the unit is turned ON, or change of mode, made it very convenient for repeat or next treatment.
Storage hook for storing the connecting wires after use, without un-plug the wires. This will keep the connecting wires in good shape and condition all the time and extend the life period of use.
Special design of battery compartment for easy and proper insertion of batteries.
1
2