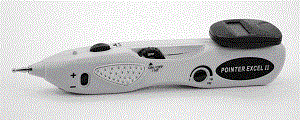 S3988 Pointer Excel ll
The Pointer Excel II is a newly developed user friendly hand held device with digital display for effective stimulation treatment of the point or area.
Further, this new device is added with more features, such as adjustable frequency from 1 ~ 16 Hz, and polarity reversal switch (for tonification or sedation).
Features and specifications
Micro current, blue zone on dial (0-10 mA) 10-45 mA adjustable (black zone on dial) (PEAK) ± 20 % (on 500 ohm loading)
Adjustable output intensity control
Frequency adjustment control 1~16 Hz
(adjustable)± 20 % (Blue zone and black zone on dial)
Polarity reversal switch (+ for tonification /- for sedation)
Pulse width 260 µS (± 20%)
Pulse Shape Biphasic Square Wave with a negative spike
Zero DC component
Waveform: continuous
Large LCD digital display frequency reading
Push button for direct electric stimulation
Pilot lamp to indicate stimulation
Two metal plates for creating a complete electrical circuit
ABS casing
Power supply: 9V battery, type PP3, 6F22,1604A, 6LR61 or its equivalent
Accessories
1 grounding pole
1 Detection/Stimulation probe
1 Screw driver
1 9V Heavy duty battery
Instruction Manual
The unit and its accessories are packed in a hard ABS plastic carrying case.
---
Copyright 2010-2011. TENS PLUS INDUSTRIAL COMPANY All Rights Reserved.