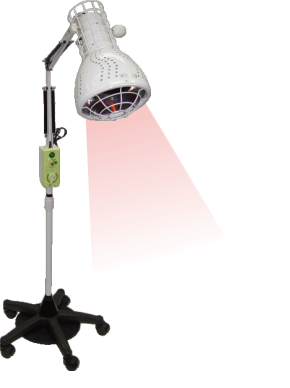 R3968 IR PRO 250 INFRARED LAMP(110V)
R3969 IR PRO 250 INFRARED LAMP(220V)
The Newest & highest quality Heat Lamp available!
The newest and highest quality heat lamp available, the IR-PRO 250 is built with the professional in mind. From its easy assembly, to its quick warm-up and high quality engineering, this heat lamp will simplify your heat lamp experience. The long life 250 watt infrared bulb (included) provides maximum radiant heat and light through its parabolic shape and internal crystal reflector. It also has a built-in internal reflective plate to further focus the electro-magnetic energy on the treatment area. The adjustable lamp position with 2 section spring loaded arm is ideal for use on patients; it can be manipulated to a maximum of 35" vertically or a range of 30" horizontally. A 5 point base with swivel casters makes the IR-PRO easy to maneuver and extremely sturdy. Unit includes60 minutes timer and a brightness control panel.
Specifications
Infrared emission
: 700 to 50,000 nanometers
Power
: 110V/220V 60Hz/50Hz, 3 prong safety plug
Control, timer
: 60 minutes manual timer
Bulb operating life
: 1,000 hours (bulb may be replaced)
Intensity
: 32 mw/sq cm (measured 30 cm from bulb)
Treatment distance
: 12" to 36"
Optimum skin temp.
: 40°C (104°F)
Extendable range
: 90 cm (35") vertical, 75 cm (30") horizontal
with 2 section, spring loaded arm
Min / Max height
: 63 cm to 150 cm (25" to 60") above floor
Telescoping main post
: 30 cm (12") adjustment
Device head adjustment
: Tilted up to 90°, rotated 360°
Stand design
: Floor model, 5 point base with swivel
Weight (unit only)
: 14.5 kgs. (32 lbs)